MiTek Receives MHEDA MVS Award for 7th Year
MiTek has earned the prestigious MVS (Most Valuable Supplier) Award for achievements in 2021. The MVS Award is granted by the industry's trade association, MHEDA (Material Handling Equipment Distributors Association) to less than 10% of all member companies. This is the 7th consecutive year that MiTek has earned the MVS Award. This industry Award recognizes companies who have demonstrated an exemplary commitment to their dealer network, their employees and their community.
To qualify for the MVS Award, MiTek was required to meet a series of criteria in a number of areas important to the distributor companies who do business with them. In addition to confirming an on-going commitment to safety and employee training, award recipients must provide documentation of active participation in a program that "gives back."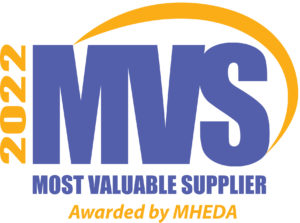 MVS Award winners have demonstrated an overall commitment to business excellence by documenting programs in the following areas:
Industry Advocacy
Distributor Advocacy
Business Networking
Continuing Education
Business Best Practices
"Achieving the MVS Award demonstrates a company's dedication to constantly improving the material handling industry. It is an honor and privilege for MHEDA to have so many companies achieve this award that requires continual improvement in customer and employee satisfaction and never-ending education of our industry throughout your organization," said Tom Albero, Chairman and CEO of Alliance Material Handling, Inc. and 2022 MHEDA Chairman.
The Material Handling Equipment Distributors Association (MHEDA) is the premier trade association dedicated to serving all segments of the material handling business community.  MHEDA represents close 600 companies in the material handling equipment business. Located in suburban Chicago, the association provides services to companies seeking to improve their business through education, networking, benchmarking and best practices.